Some discussion on LinedIn over recent days that ties in closely with something that has been exercising me. In 2007 I became agitated about alterations on Fore Street Exeter, between The Mint and Friernhay Street, neither of which would qualify as streets in normal circumstances.
The alley at the right is The Mint. Freiernhay Street is between the fourth stucco building and the first brick one. As you can see, the third shop is being refitted.
Here is the second building, The Mint Pub.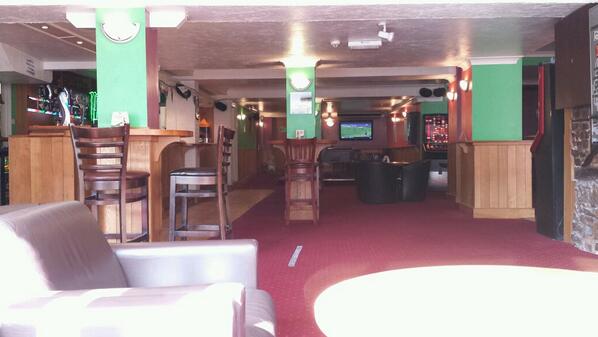 You might imagine that the pub in the first two buildings has no crosswalls. You might not think that the lack of crosswalls would go beyond the main back wall of the building. But look how far away the TV screen is!
When I saw this, the internal cross walls of the new restaurant were being taken out so only the Victorian shop at the bottom of the group had anything forming a brace. I raised the issue with Building Control but was basically fobbed off and ran out of energy to continue. No doubt, though that the cross walls were gone.
The Bressumer beam is quite substantial and apparently in good condition, but the new support at the right looks sketchy and the wall at the left is clearly inclined somewhat.
I'm pretty sure there is nothing structural behind the posts in the window.
And this makes the slope in the dividing wall clearer.
Here is the right hand end of the beam.
Anyway. Towards the end of march I realised that the victorian shop was being refitted. Another wall was coming out. I chased BC and it has taken over three weeks to get a response. I am assured that is because the person I emailed (named on the web site) had left that week. An email to my MP Ben Bradshaw produced a very rapid response.
The first comment was that the wall that came out was "just a stud partition" and did not require buildings approval because it wasn't strutcural. I beg to differ and will say more on that in another post. In the end, though, the point was that they have to rely on the engineers who submit calculations, they are not engineers themselves.
So, I ask, whose job is it to take care of this sort of thing. "I can only intervene if the building is in imminent danger of collapse."
Imagine what would happen if a Bressumer failed (they are very old) or if a support gave way. The upper floors would arch and there would be nowhere for the thrust to go. Somewhere I had a link to video of one of those going. A search will be mounted. I suspect that even a big car hitting one of those walls would be enough. Not a big risk but....
Bill